› Google Pixel Watch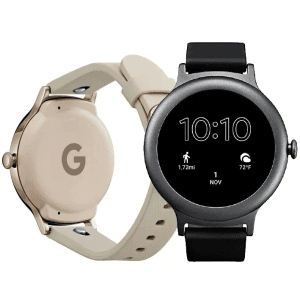 0 sales
Google Pixel Watch - Rumored @Price in Kenya
Order Google Pixel Watch from Price in Kenya with fast delivery across the country and in-store pickup in Nairobi.

Featured specifications for Google Pixel Watch
Display size

1.32 Inches, 466 x 466 Pixels

Display type

AMOLED Screen, 16M Colors

Display features

Always-on Display, 3D Curved Glass

Sensors

Accelerometer, Optical Heart Rate, Gyro, Barometer, Compass

Connectivity

Bluetooth 5.1, GPS / GLONASS / GALILEO / BDS / QZSS
Specifications and product images for Google Pixel Watch are currently preliminary awaiting official announcement.

Click Notify to receive an alert once it becomes available on
Price in Kenya.
Google Pixel Watch key features
•

Always-on AMOLED display

•

5ATM water resistant

•

24-hour heart rate monitoring

•

Fitness and activity tracking

•

Step counter

•

GPS with offline navigation
Similar items
Other items from Price in Kenya similar to Google Pixel Watch
Specifications
Google Pixel Watch full specifications, cost and availability in Kenya
General

Available
Expected Q2 2022

Colors
Black
Gray
Gold

Straps
Black
Gray
Gold

Network
No
Compatibility
Android
iOS

Key features
Always-on AMOLED display
5ATM water resistant
24-hour heart rate monitoring
Fitness and activity tracking
Step counter
GPS with offline navigation


Platform

Operating system
Wear OS 3.0

Processor
1.2 GHz
Quad-core

Chipset
Qualcomm Snapdragon Wear 3100

Graphics processor
Adreno 304

RAM
4GB

Storage
32GB

Card slot
No

Battery
300mAh
Li-Po

Battery features
Wireless Charging

Platform features
5ATM Water Resistant
50M Water Resistant
Stainless Steel Casing
Sleep / Heart Rate / Activity Monitoring
Built-in Speaker And Microphone


Display

Display size
1.32 Inches
466 x 466 Pixels

Display type
AMOLED Screen
16M Colors

Pixel density
353 ppi

Display features
Always-on Display
3D Curved Glass


Sensors & Connectivity

Sensors
Accelerometer
Optical Heart Rate
Gyro
Barometer
Compass

Connectivity
Bluetooth 5.1
GPS / GLONASS / GALILEO / BDS / QZSS

Sensors & connectivity features
Offline Navigation


Pricing & availability

Google Pixel Watch last updated price is KES 35,500
Google Pixel Watch is currently rumored.
Click the Notify me button to receive an alert when this product becomes available in the country.
Show more specs
User reviews
Reviews and ratings for Google Pixel Watch
Reviews (1)
5

Layne

4 Apr 2022 10:52 AM

User only left a rating
Help other users to know more about this item.
Price range
All Smartwatches by price range