› Apple HomePod, Smart, Wireless Speaker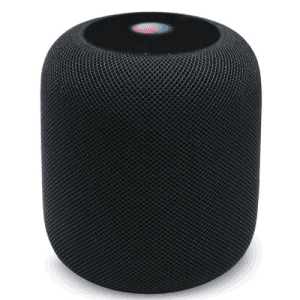 6 sales
Apple HomePod, Smart, Wireless Speaker - Out Of Stock @Price in Kenya
Order Apple HomePod from Price in Kenya with fast delivery across the country and in-store pickup in Nairobi.
Featured specifications for Apple HomePod
Virtual assistant

Apple Siri

Audio playback

Apple Music, iHeartRadio, TuneIn, Radio.com
This item is currently out of stock.

Click Notify to receive an alert once it becomes available again on
Price in Kenya.
Apple HomePod key features
High-excursion woofer

6x microphones

Intercom

Bluetooth 5.0/WiFi MIMO

Apple AirPlay 2

Podcasts/Music
Customers also viewed
Other items from Price in Kenya similar to Apple HomePod
Specifications
Apple HomePod full specifications, cost and availability in Kenya
General

Dimensions
142 x 172 mm (Diameter x Height)

Weight
2.5 kg

Colors
Space Grey
White

Key features
High-excursion woofer
6x microphones
Intercom
Bluetooth 5.0/WiFi MIMO
Apple AirPlay 2
Podcasts/Music


Smart Features

Virtual assistant
Apple Siri

Processor
Apple A8

Display
272 x 340 Pixels

Audio playback
Apple Music
iHeartRadio
TuneIn
Radio.com

Smart features
Computational Audio
Intercom
Handoff
Spatial Awareness
Smart Home Integration


Speaker & Microphone

Driver
1 x High-Excursion Woofer
7 x Horn-Loaded Tweeters

Microphone
6x Microphones
Noise and Echo Cancellation


Connectivity

Bluetooth
Bluetooth 5.0

Wi-Fi
Wi-Fi 802.11ac
MIMO

Connectivity features
Apple AirPlay 2


Pricing & availability

Apple HomePod last updated price is KSh 40,600
Apple HomePod is currently out of stock.
Click the Notify me button to receive an alert when this product becomes available in the country.
Show more specs
User reviews
Reviews and ratings for Apple HomePod
Reviews (2)
5

Guest

8 Mar 2021 10:36 PM

User only left a rating

5

Guest

14 Oct 2020 6:38 AM

User only left a rating
Help other users to know more about this item.
Trade-in
Trade in and save on new purchases
Save on new purchases when you trade in your old eligible device Trade-in supported devices