› Apple MagSafe Charger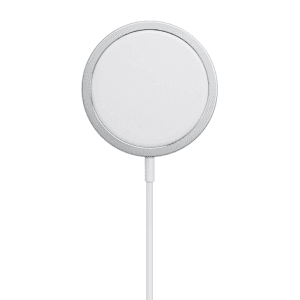 99 sales
Apple MagSafe Charger - In Stock @Price in Kenya
Order Apple MagSafe Charger from Price in Kenya with fast delivery across the country and in-store pickup in Nairobi.

Featured specifications for Apple MagSafe Charger
Charging interface

Wireless, USB-C Input

Output

15W Max
BUY
Kindly note that though we strive to keep all products up to date, price and availability are subject to change without prior notice.
Apple MagSafe Charger key features
Up to 15W fast charging

Magnetic dock

Qi wireless charging

iPhone / AirPods compatible
Customers also viewed
Other items from Price in Kenya similar to Apple MagSafe Charger
Specifications
Apple MagSafe Charger full specifications, cost and availability in Kenya
Specifications

Other names
MagSafe Wireless Charger

Colors
White

Key features
Up to 15W fast charging
Magnetic dock
Qi wireless charging
iPhone / AirPods compatible

Compatibility
iPhone 8 / X / XR / XS / 11 / 12 / 13
iPhone SE 2
Wireless Charging Case For AirPods
AirPods 3
AirPods Pro

Output
15W Max

Charging interface
Wireless
USB-C Input

Features
Qi Wireless Charging
Magnetic Dock

Notes
20W USB-C Power Adapter Recommended


Pricing & availability

Apple MagSafe Charger last updated price is KES 5,500
Apple MagSafe Charger is currently in stock.
You may place an order for delivery by courier or rider, or schedule for a pickup from our store in Nairobi.
Show more specs
User reviews
Reviews and ratings for Apple MagSafe Charger
Reviews (1)
5

Corbin

3 Feb 2022 6:45 AM

User only left a rating
Help other users to know more about this item.
Trade-in
Trade in and save on new purchases
Save on new purchases when you trade in your old eligible device Trade-in supported devices