› Realme Buds Q2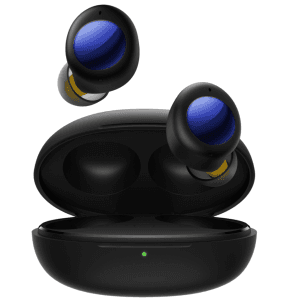 0 sales
Realme Buds Q2 - Upcoming @Price in Kenya
Order Realme Buds Q2 from Price in Kenya with fast delivery across the country and in-store pickup in Nairobi.

Featured specifications for Realme Buds Q2
Driver

10mm

Microphones

2

IP rating

IPX5 Water Resistant

Earbud features

25dB Active Noise Cancellation, Transparency Mode, Dynamic Bass Boost, Liquid Crystal Polymer Diaphragm, 88ms Super Low Latency Gaming Mode, Instant Connection

Connectivity

Bluetooth 5.2

Play time

Up To 5h ANC On, Up To 7h ANC Off

Weight

4.5 g
This item is yet to arrive at our store.

Click Notify to receive an alert once it becomes available on
Price in Kenya.
Realme Buds Q2 key features
IPX5 water resistant

Transparency mode

Low latency gaming mode

Bluetooth 5.2

Instant connection

Up to 5h playtime with ANC
Customers also viewed
Other items from Price in Kenya similar to Realme Buds Q2
Specifications
Realme Buds Q2 full specifications, cost and availability in Kenya
General

Available
June
2021

Weight
4.5 g

Colors
Active Black
Calm Grey

Key features
IPX5 water resistant
Transparency mode
Low latency gaming mode
Bluetooth 5.2
Instant connection
Up to 5h playtime with ANC


Earbud

Driver
10mm

Microphones
2

IP rating
IPX5 Water Resistant

Earbud controls
Play / Pause / Next Music
Answer / End Call
Enter / Exit Gaming Mode
ANC / Transparency Mode

Chipset
Realme R2

Earbud features
25dB Active Noise Cancellation
Transparency Mode
Dynamic Bass Boost
Liquid Crystal Polymer Diaphragm
88ms Super Low Latency Gaming Mode
Instant Connection


Sensors & Connectivity

Connectivity
Bluetooth 5.2

Sensors & connectivity features
SBC
AAC


Battery

Battery
40mAh

Play time
Up To 5h ANC On
Up To 7h ANC Off


Charging Case

Charging case battery
400mAh

Charging case playtime
Up To 20h ANC On
Up To 28h ANF Off

Charging case features
USB Type-C


Pricing & availability

Realme Buds Q2 last updated price is KES 3,499
Realme Buds Q2 is currently upcoming.
Click the Notify me button to receive an alert when this product becomes available in the country.
Show more specs
User reviews
Reviews and ratings for Realme Buds Q2
Reviews (1)
5

Duncan

2 Mar 2022 9:19 AM

User only left a rating
Help other users to know more about this item.
Price range
All Earbuds by price range
Trade-in
Trade in and save on new purchases
Save on new purchases when you trade in your old eligible device Trade-in supported devices