› Tecno Pop 8, 3GB/64GB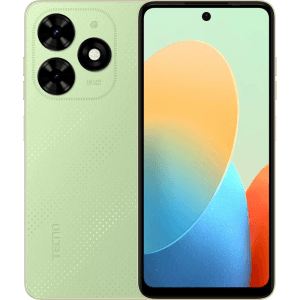 0 sales
Tecno Pop 8, 3GB/64GB - Upcoming @Price in Kenya
Order Tecno Pop 8 from Price in Kenya with fast delivery across the country and in-store pickup in Nairobi.
Featured specifications for Tecno Pop 8
Available

October, 2023

Operating system

Android 13, Go Edition

Chipset

Unisoc T606

Camera resolution

13MP F1.8 + 0.08MP

Front camera resolution

8MP

Display size

6.6 Inches, 720 x 1612 Pixels

Display type

IPS Screen, 16M Colors

RAM

3GB

Storage

64GB

Battery

5000mAh, Li-Ion
This item is yet to arrive at our store.

Click Notify to receive an alert once it becomes available on
Price in Kenya.
Tecno Pop 8 key features
90Hz HD+ display

Android 13 Go edition

Face and fingerprint unlock

5000mAh battery with 10W USB Type-C charging

Up to 1 TB extended storage via MicroSD

Dual stereo speakers with DTS audio
Customers also viewed
Other items from Price in Kenya similar to Tecno Pop 8
Tecno Pop 8 Specs and Price
The Tecno Pop 8 is a stylish budget smartphone that packs a range of features ideal for those seeking an affordable yet capable device. The phone's 90Hz HD+ display is a noteworthy addition in this price range, providing smoother visuals and enhancing the overall user experience. Running on Android 13 Go edition ensures efficient performance and access to the latest features. The 13MP dual main camera setup delivers decent photo quality, while face and fingerprint unlock options enhance device security.
The 5000mAh battery is a great inclusion, ensuring extended usage on a single charge, and the 10W USB Type-C charging adds convenience for topping up. With support for up to 1TB extended storage via MicroSD, you'll have ample space for your files and media. The dual stereo speakers with DTS audio and the 8MP selfie camera with an LED flash complete the package. The Tecno Pop 8 offers an attractive combination of features for budget-conscious users in Kenya, making it a practical and stylish choice. Pricing starts from KSh 14,600.
Specifications
Tecno Pop 8 full specifications, cost and availability in Kenya
General

Available
October
2023

Dimensions
163.7 x 75.6 x 8.6 mm

Colors
Magic Skin
Mystery White
Alpenglow Gold
Gravity Black

Network
2G, 3G, 4G
Network features
2G: 850, 900, 1800, 1900; 3G: 900, 2100; 4G
Key features
90Hz HD+ display
Android 13 Go edition
Face and fingerprint unlock
5000mAh battery with 10W USB Type-C charging
Up to 1 TB extended storage via MicroSD
Dual stereo speakers with DTS audio


Platform

GPU
Mali-G57 MP1

Operating system
Android 13
Go Edition

Processor
1.6 GHz
Octa-core
12nm

Chipset
Unisoc T606

Graphics processor
Mali-G57 MP1

RAM
3GB

Storage
64GB

Card slot
MicroSD
Up to 1TB

Battery
5000mAh
Li-Ion

Battery features
10W Charging

Platform features
Dual Stereo Speakers
DTS Audio


Display

Display size
6.6 Inches
720 x 1612 Pixels

Display type
IPS Screen
16M Colors

Pixel density
267 ppi

Display features
90Hz Refresh Rate


Camera

Camera resolution
13MP F1.8 + 0.08MP

Camera features
Panorama / Portrait / AI Beauty / HDR / Bokeh
Dual LED Flash

Video recording
Full HD 30fps


Front camera

Front camera resolution
8MP

Front camera features
Face Unlock
Dual LED Flash


Sensors & connectivity

Sensors
Fingerprint
Accelerometer
Proximity

Connectivity
USB Type-C 2.0 / USB OTG
Wi-Fi Hotspot
Bluetooth 5.0
GPS


Pricing & availability

Tecno Pop 8 last updated price is KSh 14,500
Tecno Pop 8 is currently upcoming.
Click the Notify me button to receive an alert when this product becomes available in the country.
Show more specs
User reviews
Reviews and ratings for Tecno Pop 8
Reviews (2)
4

Jackson

25 Nov 2023 2:49 AM

I love Tecno pop series especially tecno pop8 the latest and the best...new in town💪💪

4

Muli

4 Nov 2023 8:36 AM

User only left a rating
Help other users to know more about this item.
Price range
All Smartphones by price range
Trade-in
Trade in and save on new purchases
Save on new purchases when you trade in your old eligible device Trade-in supported devices