› JBL Tune 205BT, Earphone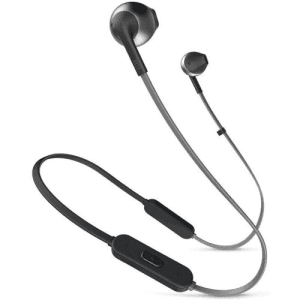 159 sales
JBL Tune 205BT, Earphone - In Stock @Price in Kenya
Order JBL Tune 205BT from Price in Kenya with fast delivery across the country and in-store pickup in Nairobi.
Featured specifications for JBL Tune 205BT
Frequency response

20Hz - 20kHz

Connectivity

Bluetooth 4.0, supports HFP v1.5/HSP v1.2/A2DP v1.2/AVRCP v1.5

Play time

Up To 6h

Weight

16.5 g

Driver

12.5mm
BUY
Kindly note that though we strive to keep all products up to date, price and availability are subject to change without prior notice.
JBL Tune 205BT key features
Up to 6h playback time

JBL pure bass enhancement

Tangle-free cable
Customers also viewed
Other items from Price in Kenya similar to JBL Tune 205BT
Specifications
JBL Tune 205BT full specifications, cost and availability in Kenya
General

Weight
16.5 g

Colors
Black
Blue
Silver
Rose Gold
Green
Champagne Gold

Key features
Up to 6h playback time
JBL pure bass enhancement
Tangle-free cable


Speaker

Driver
12.5mm

Frequency response
20Hz - 20kHz


Sensors & Connectivity

Connectivity
Bluetooth 4.0
supports HFP v1.5/HSP v1.2/A2DP v1.2/AVRCP v1.5


Battery

Battery capacity
120mAh
Li-Po; 3.7V

Play time
Up To 6h

Charging
Up To 2h


Pricing & availability

JBL Tune 205BT last updated price is KSh 5,100
JBL Tune 205BT is currently in stock.
You may place an order for delivery by courier or rider, or schedule for a pickup from our store in Nairobi.
Show more specs
User reviews
Reviews and ratings for JBL Tune 205BT
Reviews (1)
5

Guest

23 Sep 2020 5:42 AM

User only left a rating
Help other users to know more about this item.
Price range
All Bluetooth Headsets by price range
Trade-in
Trade in and save on new purchases
Save on new purchases when you trade in your old eligible device Trade-in supported devices