› Vivo Watch 46mm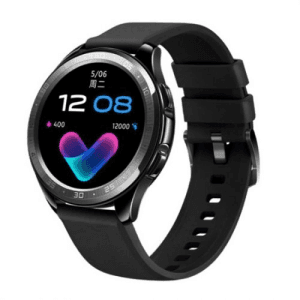 0 sales
Vivo Watch 46mm - Upcoming @Price in Kenya
Order Vivo Watch 46mm from Price in Kenya with fast delivery across the country and in-store pickup in Nairobi.
Featured specifications for Vivo Watch 46mm
Network

No

Display size

1.39 inches, 454 x 454 pixels

Display type

AMOLED screen, 16M colors

Sensors

Accelerometer, Heart Rate, Gyro, Altimeter, Barometer, Compass, SpO2

Connectivity

Bluetooth 5.0, NFC, GPS, GLONASS, GALILEO, BDS
This item is yet to arrive at our store.

Click Notify to receive an alert once it becomes available on
Price in Kenya.
Vivo Watch 46mm key features
10W wireless charging

5ATM water resistant

AMOLED display

Stainless steel casing

Sleep/pressure/heart rate/blood oxygen saturation monitoring
Customers also viewed
Other items from Price in Kenya similar to Vivo Watch 46mm
Specifications
Vivo Watch 46mm full specifications, cost and availability in Kenya
General

Available
September
2020

Dimensions
46 x 46 x 10.6 mm

Weight
46.8 g

Colors
Black
Brown
Dark Brown
Orange

Network
No
Compatibility
Android
iOS

Key features
10W wireless charging
5ATM water resistant
AMOLED display
Stainless steel casing
Sleep/pressure/heart rate/blood oxygen saturation monitoring


Platform

Storage
2GB

Card slot
No

Battery
478mAh
Li-Ion


Display

Display size
1.39 inches
454 x 454 pixels

Display type
AMOLED screen
16M colors

Pixel density
326 ppi


Sensors & Connectivity

Sensors
Accelerometer
Heart Rate
Gyro
Altimeter
Barometer
Compass
SpO2

Connectivity
Bluetooth 5.0
NFC
GPS
GLONASS
GALILEO
BDS


Pricing & availability

Vivo Watch 46mm last updated price is KES 20,800
Vivo Watch 46mm is currently upcoming.
Click the Notify me button to receive an alert when this product becomes available in the country.
Show more specs
User reviews
Reviews and ratings for Vivo Watch 46mm
Reviews (1)
5

Guest

27 Sep 2020 9:55 AM

User only left a rating
Help other users to know more about this item.
Price range
All Smartwatches by price range
Trade-in
Trade in and save on new purchases
Save on new purchases when you trade in your old eligible device Trade-in supported devices